Christopher Hastings and Anthony Clark @ New York Comic Con 2012
October 1st, 2012
Are you going to New York Comic Con this year? Great! So are we! Ryan North, Anthony Clark and I have been working on a brand new comic series for ShiftyLook, and we'll be announcing what it is at the show! Then you know, we'll sign stuff and whatnot. We will not have any Dr. McNinja, Nedroid, or Deadpool books at the show, but please feel free to bring your own! We will have posters that we made for mystery project, and we'll sign those for you too.
You can also get a picture with me, Anthony, and a life size cardboard cut out of Ryan! Also did I mention there is a FREE ARCADE at the ShiftyLook booth? THERE IS A FREE ARCADE.
I will also be doing a signing at Dark Horse! Here is the schedule for the show.
THURSDAY OCTOBER 11TH
5pm-6pm: ShiftyLook Booth 3374: A Big Announcement from Christopher Hastings, Anthony Clark, and Cardboard Cutout Ryan North
7pm – 8pm: Dark Horse Booth 1528: Dr. McNinja Signing (The Dark Horse booth probably will have copies of Night Powers on sale)
8pm – 9pm: ShiftyLook Booth 3374: ShiftyCast Live! NYCC Day One
FRIDAY OCTOBER 12TH
12pm – 1pm: ShiftyLook Booth 3374: Chris, Anthony & Cardboard Ryan Party
2pm – 3pm: ShiftyLook Booth 3374: ShiftyLook Meet & Greet
6:30pm – 8:30pm: Q&A Lecture with Anthony Clark and Meredith Gran for Cartoon Allies @ School of Visual Arts (This is not an NYCC affiliated event, and happens on the SVA campus. You must be an SVA student or alum to attend.)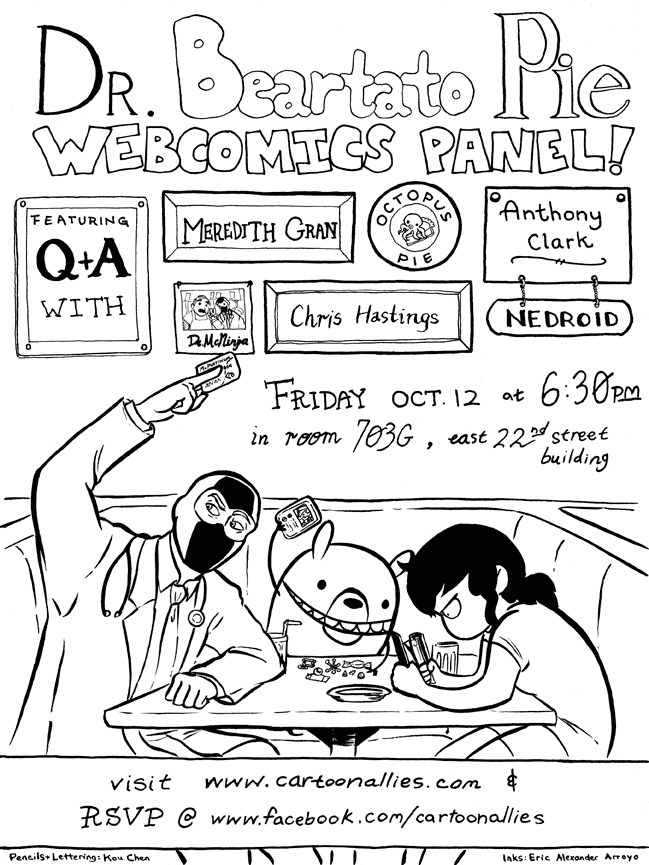 SATURDAY OCTOBER 13TH
1pm – 2pm: ShiftyLook Booth 3374: Chris & Anthony Party
SUNDAY OCTOBER 14TH
12pm – 2pm: ShiftyLook Booth 3374: Last Chance Autographs
I hope to see you there!
-Christopher
PS: This website turned 7 years old today! Happy anniversary, Dr. McNinja!